One of the great privileges in life is the opportunity to build a custom home, a home designed specifically for you, a home reflecting your lifestyle and personal preferences; And one of the most important considerations in building that home is choosing the right builder; one with the knowledge, expertise and talent to bring your dreams to life.
Whether you currently have a home site or are looking for the perfect place to call home; whether you prefer the city, the mountains, a golf course or lake; a cozy, large or estate home; Homes by Joe Boyden is an exceptional choice in home design and construction. Joe Boyden has succeeded in building beautiful homes and lasting relationships over the years because of the philosophy embraced by Joe and his team: All families are unique, with different needs and personalities. A home should reflect that individuality inside and out. today, tomorrow and for years to come.
Joe Boyden has grown his company, Homes by Joe Boyden, into one of New Mexico's premier residential construction companies. Based in Tijeras, New Mexico, twenty miles east of Albuquerque, Joe continues to personally oversee construction from start to finish. It's a reflection of his dedication to each and every customer, and a testimony to his commitment to a job well done.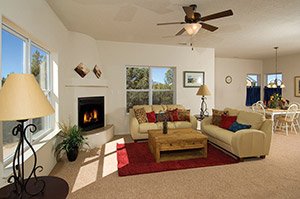 Joe's experience and expertise includes homes of every price range, virtually every style and size, in dramatically different settings - mountains, desert, mesa tops, golf courses, rivers and lakes. And regardless of style or location, Joe's eye for design, his attention to detail, and his uncompromising workmanship are ever present, bringing you an extraordinary home that is beautiful, functional and a joy to live in.
Enjoy the luxury, the comfort and the livability of a custom home designed and built by Joe Boyden. Homes by Joe Boyden; built for the way you live... anywhere you live.